Rare Bird Books To Publish The Investment Club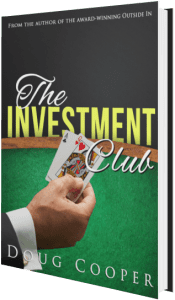 Pleased to announce Los Angeles-based independent book publisher Rare Bird Books will be publishing Doug's new novel The Investment Club along with the paperback release of his award-winning debut novel, Outside In in October 2016. Stay tuned for pre-order and event information.
Rare Bird is the parent company of Rare Bird Lit and Rare Bird Books, two Los Angeles-based book industry firms founded by former Book Soup marketing and publicity director Tyson Cornell. Rare Bird Lit, the marketing wing, is a boutique marketing and promotions firm specializing in book promotions for major and independent publishers, authors big and small, and other organizations. Rare Bird Books, the publishing wing, is a PGW-distributed independent publisher of approximately twenty-five books a year in multiple formats, including print, ebook, audio, and limited edition.